German sportswear company "Jako" announced the new jerseys that the various Macedonian national teams will wear beginning in August of this year.
The Football Federation of Macedonia (FFM) decided to switch jersey providers by moving from Puma to Jako.  Both are German sportswear companies, but the Macedonian federation felt Jako was more understanding of their needs and wants on the new jerseys.  Thus, FFM dropped Puma, who offered a new contract, in favor of Jako.
The deal with Jako begins on the 1st of August.  The duration of the deal is for 2 years with an option to extend for an additional two years as well.  Macedonia's national team will still wear the Puma jerseys in any matches up until August when the switch is made to Jako.  Macedonia's senior national team will debut the new Jako jersey during a friendly in August.  Macedonia's opponent for the August friendly period has still not been identified, but that should be ironed out in the near future.
Jako showcased three jerseys that they will produce for Macedonia's national team.  They are in red, yellow and white.  The jerseys by Jako also feature the new FFM logo.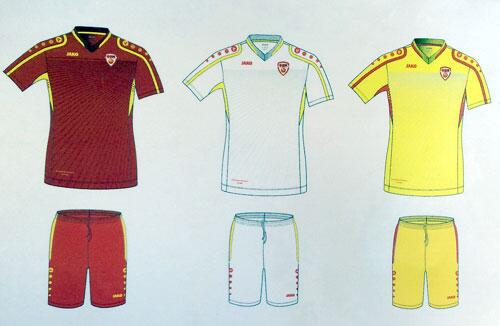 The hope is that Jako will offer an opportunity for any interested Macedonian fans to purchase the new jerseys.  That was one of the biggest complaints with Puma.  They did not sell the Macedonian jersey online, and there was not an outlet where fans could buy an official national team jersey under Puma's watch.
Jako sponsors several national teams, including two other European national teams in Moldova and Luxembourg.  Meanwhile, the company also sponsors numerous football clubs across the world, the most prominent being German top division club Eintracht Frankfurt.
How do you feel about Macedonia's new jerseys?  Is it an upgrade, downgrade, or are you indifferent about the new look?  Let us know in the comments section below.