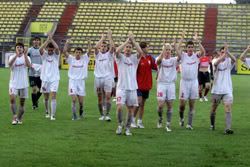 No big changes in the
Macedonian First Football League
after 13 played rounds. The leading teams managed to win and Rabotnicki kept the 8 points lead before Milano and 9 points before Vardar.
Renova leaded by the new coach Biljbil Sokoli hosted the leader Rabotnicki. The hosts were motivated to stop their bad results and also to stop Rabotnicki's winning streak. But their ambitions were eliminated when Stanisic in the early minutes scored the only goal which brought Rabotnicki the 3 points.
Cementarnica was close to surprise Milano when the Brazilian Thiago scored for their lead in the 69th minute. But Milano quickly took the control and Dimitrovski scored and own goal for equalizing the score and in the 82nd minute Stojanovic scored the winning goal for the guests.
After the two draws, Vardar was in a "must win" situation. Artim Sakiri wasn't able to help Shkendija who were easily defeated on "Gradski" in Skopje. Kostovski twice, Stjepanovic from penalty and Milosavljev scored for Vardar, while Delioski scored the only goal for Shkendija.
Current champion Pobeda finally won after four rounds. Gjorovic twice, Meglenski from penaly and Itua scored for Pobeda and Stojanovski scored for Makedonija GP who continued their bad performances on away played matches.
Napredok managed to stop Pelister's good run. The guests even had the lead for long time after Levkov scored for Napredok in the 8th minute and Rutevski only managed to equalize in the middle of the second half.
Nothing new on Bashkimi's matches. Same as in the last couple matches, the few bookmakers who offer the Macedonian league, predicted the "goal show", The strikers from Sileks and Bashkimi were in the mood for scoring like never before and the match finished with 4:3.
04/11/07
Sileks
Stupic 7, 50, 56, Aksentiev 10
4-3
Baskimi
Antonijevic 11, Bisevac 16, Boskovski 88
04/11/07
Pelister
Rytevski 75(p)
1-1
Napredok
Levkov 8
04/11/07
Vardar
Stepanovik 29(p), Milosavljev 33, Kostovski 38, 52
4-1
Shkendija
Delioski 45
04/11/07
Cementarnica
Rodriges 69
1-2
FK Milano
Dimitrovski 73(o), Stojanovic 82
04/11/07
Renova
0-1
Rabotnicki
Stanisic 7
04/11/07
Pobeda
Meglenski 27(p), Djorovic 50, 82, Itua 55
4-1
Makedonija
Stojanovski 80
| | | |
| --- | --- | --- |
| | Soccer, Macedonia, Prva liga 07/08 | |
| | | | | | | | | | |
| --- | --- | --- | --- | --- | --- | --- | --- | --- | --- |
| Pos | | Team | P | W | D | L | Goals | Goal diff | Points |
| 1 | | Rabotnicki | 13 | 11 | 2 | 0 | 27:4 | 23 | 35 |
| 2 | | Milano | 13 | 8 | 3 | 2 | 28:12 | 16 | 27 |
| 3 | | Vardar | 13 | 7 | 5 | 1 | 25:8 | 17 | 26 |
| 4 | | Pelister | 13 | 6 | 4 | 3 | 15:11 | 4 | 22 |
| 5 | | Pobeda | 13 | 4 | 6 | 3 | 15:15 | 0 | 18 |
| 6 | | Renova | 13 | 5 | 3 | 5 | 11:13 | -2 | 18 |
| 7 | | Sileks | 13 | 4 | 5 | 4 | 14:15 | -1 | 17 |
| 8 | | Makedonia | 13 | 5 | 1 | 7 | 17:22 | -5 | 16 |
| 9 | | Napredok | 13 | 2 | 5 | 6 | 12:22 | -10 | 11 |
| 10 | | Baskimi | 13 | 3 | 2 | 8 | 18:33 | -15 | 11 |
| 11 | | Cementarnica | 13 | 1 | 3 | 9 | 11:22 | -11 | 6 |
| 12 | | Shkendija | 13 | 1 | 3 | 9 | 5:21 | -16 | 6 |
Cementarnica-Milano and Vardar-Shkendija highlights:
https://youtube.com/watch?v=7SPVfEH1w2g
400 300]
Video from a1.com.mk