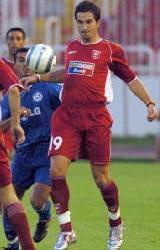 Macedonian international Nikola Karcev, who is currently playing for Albanian club Elbasani, was attacked by the Governor of Peqin and member of the Albanian parliament, Dash Sulaj. According to the Albanian media, after the match Elbasani – Shkumbini, the Macedonian player Nikola Karcev was attacked by the Governor of Peqin (the city wich the team Shkumbini comes from), Dash Sula. The Governor is also member of the Albanian parliament. Karcev missed the last match of the Albanian Superleague and together with his wife Adrijana and his 5-months-old son Dimitrij was watching the match from the VIP seats, near the Albanian politician.
The Governor made a horrible scene during last week match for the 1/8 of the Albanian cup, between both teams, played in Elbasan. Shkumbini won the first match with 2-0 and Elbasani won the return match with 3-0 and Nikola Karcev scored the decisive goal. That goal made the Governor Dash Sulaj furious and yesterday he used the chance and attacked Karcev on the stadium in Elbasan.
Today, the politician denied the news and stated that it was only a harder verbal attack.