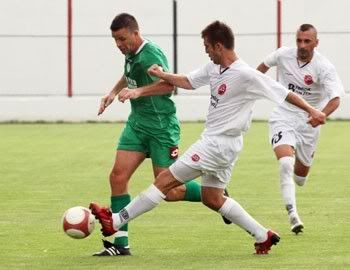 The European journey for 2008/09 season for all Macedonian teams already ended with the elimination of Milano Kumanovo and Pelister Bitola from the UEFA Cup.
The Macedonian vice-champion and cup finalist, Milano from Kumanovo ended their European debut after one played round in the UEFA Cup. After the 2:0 defeat in Nicosia by the Cypriot team Omonia, Milano had difficult task on the 2nd leg in Kumanovo.
The guests from Cyprus had the chance to secure their placement in the next round in the opening minutes of the match, but Milano's goalkeeper Edin Nuredinovski managed to save the penalty kick. In the 17th minute, the home team managed to take the 1:0 with the goal by Faruk Statovci. This result gave Milano a big boost and they continued attacking on the opposition's goal. But after Milano failed to use their chances, the guests quickly sealed the match. In the 77th minute after a quick attack Christofi equalised on 1:1 and in the 85th minute Cafu scored for the final 1:2 and for Milano's elimination from the UEFA Cup.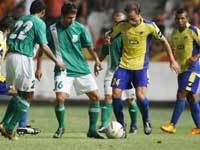 Pelister had realistic chances for qualification in the next round after the 0:0 against APOEL played on the first match in Macedonia. The players from Bitola traveled to Cyprus with aim to defend their goal and try to surprise the hosts and score from counter attacks.
In the first half Pelister successfully managed to save their goal after the 3 good chances for APOEL. In the 2nd half the home side continued with the attacks on Pelister's goal. In the 77th minute Ristevski received the 2nd yellow card and Pelister continued the match with 10 men and it was question of time when Pelister's defence will obey under APOEL's attacks. After several missed chances, in the 82nd minute Chrisy Michael took APOEL in the lead with a goal from the penalty spot. In the last minutes Pelister had desperate attempts on APOEL's goal and even goalkeeper Nikov went in the attack, but with no serious finish and Pelister got eliminated with the final 1:0 score.
With these 2 matches, the journey of all Macedonian teams in Europe ended. Renova played 2 rounds in the Intertoto Cup, Rabotnicki was eliminated in the first round of the Champions League qualifications, same as Milano and Pelister who didn't survive the first qualification round of the UEFA Cup. This is one of the shortest journeys in Europe, an outcome that will have bad consequences for the coeficients and seedings in the draws for the Macedonian teams in the next years.