Bardi scored a free kick beauty, Nestorovski brought a win to Pelermo with a penalty goal, Abaz also scored, Najdenov, Selmani and Angelov assisted, Alioski converted a penalty kick, Urdinov missed a penalty kick, Babunski played 120 minutes for Yokohama, Mojsov scored a goal and an own goal.
Belgium, Beker van Belgie, St. Truiden – OH Leuven 4:2 AET
Jovan Kostovski was an unused substitute for Leuven as his team was eliminated from the Belgian cup.
Belgium, Beker van Belgie, Charleroi – La Louvière Centre 4:0
Gjoko Zajkov played the whole game for Charleroi and was part of a defense that kept a clean sheet. Gjoko's team won easily against lower division side La Louvière Centre and thus moved to the next round.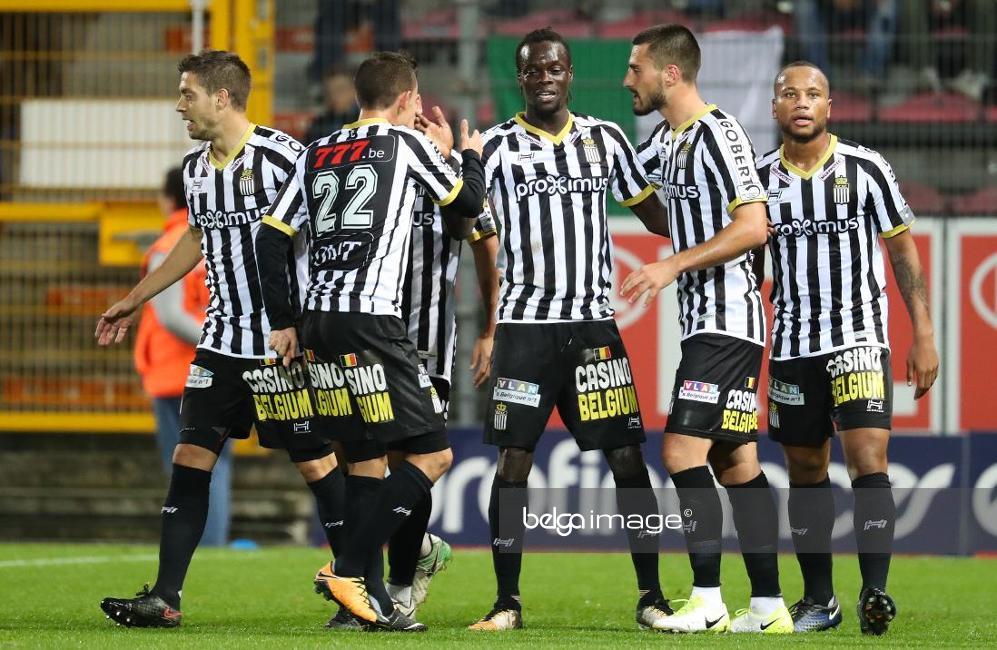 Bosnia-Herzegovina, Kup BIH, Azot – Sloboda 1:2
Aleksandar Lazevski spent all minutes on Sloboda's bench.
Bosnia-Herzegovina, Kup BIH, Mladost – Sarajevo 4:3
Krste Velkoski played all minutes as a supporting striker for Sarajevo. The score was 0:0 after 120 minutes, thus the match was decided through penalties. Krste was the first from the spot and converted his penalty, but eventually Mladost eliminated his team.
Velkoski's penalty (at 5:55):

Bulgaria, Kupa na Balgaria, Maritsa – Lokomotiv Plovdiv 1:3
Vancho Trajanov was given a rest from his Lokomotiv for this match of the Bulgarian cup.
Croatia, Hrvatski nogometni kup, Croatia Đakovo – Istra 1961 0:4
Risto Mitrevski wasn't called up by Istra, while his teammate Tome Kitanovski was an unused susbtitute.
Croatia, Hrvatski nogometni kup, Croatia Zmijavci – Slaven Belupo 0:1
Mirko Ivanovski wasn't part of Slaven's squad as he is still injured.
Croatia, Hrvatski nogometni kup, Nehaj – Osijek 0:6
Muzafer Ejupi opened on Osijek's bench and played the last 20 minutes as his team easily defeated Nehaj Senj.
Croatia, Hrvatski nogometni kup, Vrbovec – Rijeka 1:3
Leonard Zhuta played the entire game for Rijeka as his team moved to the next round.
Cyprus, Protáthlima Cyta, Omonia – AEK 5:2
Daniel Mojsov scored twice on this match, but unfortunately the first one was an own goal in the 23rd minute. Two minutes before the end of the match Mojsov scored for AEK and only lowered the defeat. Ivan Trichkovski didn't play for the visiting team.
Mojsov's own goal (at 4:54) & the goal (at 11:54):

Czech Republic, HET Liga, Bohemians 1905 – Vlašim 2:2 (3:4 pso)
Yani Urdinov played the whole 120 minute for Bohemians and missed a penalty kick in the second serie. His team got eliminated from a second league side.
Urdinov's missed penalty kick (at 2:50):

Egypt, Presentation Premier League, Smouha – Al Nasr 1:1
Bojan Najdenov was introduced at 64th minute instead of Manga. Few minutes later he took a corner kick and assisted to captain El Sayed Farid who brought the lead with a header. Unfortunately Smouha conceded an equalizer in the injury time.
Najdenov's assist:

England, Carabao Cup, Burnley – Leeds United 2:2 (3:5 pso)
Ezgjan Alioski started on the bench for Leeds and got a chance in the 104th minute instead of Kemar Roofe when the score was already 2:2. He successfully converted his penalty kick in the fourth serie helping the Whites to advance in the next round.
Alioski's penalty kick goal (at 3:40):

Hungary, Magyar Kupa, Dunaharaszti – Ferencváros 1:2
Stefan Spirovski played the full 90 minutes for Ferencváros who advanced in the next round.

Hungary, Magyar Kupa, Öttevény – Újpest 0:6
Both Viktor Angelov and Remzifaik Selmani started for Újpest in this easy cup win. Selmani with a header assisted to Patrik Tischler for the opening goal in the 23rd minute. Later in the 32nd minute Angelov assisted to Tischler for 2:0.
Selmani's assist (at 0:52) & Angelov's (at 1:13):

Hungary, Magyar Kupa, Nyíradony – Vasas 0:2
Kire Ristevski didn't play for Vasas in the Hungarian Cup away to lower league side Nyíradon.
Italy, Serie A, Genoa – Chievo 1:1
Goran Pandev is still out with the muscle injury.

Italy, Serie B, Palermo – Perugia 1:0
Ilija Nestorovski played the whole game and successfully converted a penalty kick nine minutes from time to bring his team a win against one of the promotion rivals. The penalty came after he was trying to find a teammate into the box and a visiting player played with hand. Two minutes after the goal he got booked. His teammate Aleksandar Trajkovski watched the game from the bench.
Nestorovski's penalty goal (at 2:55):

Japan, Emperor's Cup, Yokohama F·Marinos – Sanfrecce Hiroshima 3:2 AET
David Babunski eventually started for Yokohama and even played the full 120 minutes. He picked up a yellow card in the 98th minute. His team eliminated Hiroshima and advanced into the quarter-finals where they will face Júbilo Iwata.
Kazakhstan, Kaesipqoi Ligasy, Aktobe – Tobol 1:0
Dushan Savikj and Muarem Muarem defeated Vanche Shikov in the "Macedonian" duel in Kazakhstan. Savikj played 80 minutes, Muarem was replaced in the 85th minute, while Shikov played the whole match for the visiting team.
Netherlands, KNVB Beker, ONS Sneek – Twente 1:3
Nikola Gjorgjev entered the match in the 64th minute and helped his team defeat lower league team ONS Sneek in the Dutch Cup.
Netherlands, KNVB Beker, GVVV – Dordrecht 1:0
Denis Mahmudov and Antonio Stankov were eliminated from the Dutch Cup after their team lost to Tweede Divisie side GVVV. Stankov played the whole match, while Mahmudov was replaced in the 70th minute.
Netherlands, KNVB Beker, Noordwijk – Fortuna 0:1
Stefan Ashkovski played the whole match for Fortuna and helped his team qualify in the next round by wining away to lower league team Noordwijk.
Poland, Puchar Polski, Cracovia – Zagłębie 0:3
Aleksandar Todorovski watched his team win in the Polish Cup from the substitutes' bench.
Portugal, Taça da Liga, Sporting – Maritimo 0:0
Stefan Ristovski finally got the chance to start a match for Sporting and immediately impressed the coach, the media and Sporting's fans. Ristovski played the whole match and was one of the best players and right after the match, the management of the club decided to trigger the buy-out clause and sign the player on permanent deal.
Romania, Liga I Betano, Sepsi – Universitatea Craiova 2:3
Milovan Petrovikj played the whole match for Sepsi, but wasn't able to help his team avoid the defeat.
Serbia, SuperLiga, Borac – Crvena Zvezda 0:2
Destan Hadjija wasn't summoned by the home team coach for this postponed game.
Serbia, Kup Srbije, Javor – Sinđelić 2:0
Filip Ristovski played whole game for the home team while his teammate Aleksa Amanovikj entered the game at half-time replacing Marko Kolaković. Filip Ivanovski didn't play for Javor.
Serbia, Kup Srbije, Zlatibor – Radnički 0:0 (7:6 pso)
Petar Krstikj is still out of Radnički's squad because of injury.
Serbia, Kup Srbije, Polet 1980 – Spartak 1:8
Emil Abaz played entire match for Spartak and scored his team's fourth goal in the 32nd minute.
Serbia, Kup Srbije, Dinamo Pančevo – Vojvodina 1:2
Daniel Avramovski didn't play for Vojvodina.
Serbia, Kup Srbije, Mačva – OFK Bačka 0:0 (4:2 pso)
Bojan Gjorgievski was unused substitute for Mačva.
Slovakia, Fortuna Liga, Ružomberok – Žilina 1:0
Tihomir Kostadinov played untill the 89th minute when veteran player Marek Sapara took his place. That happened 5 minutes after his team took the lead thanks to an own goal.
Slovenia, Pokal Slovenije, Mura – Domžale 3:1
Zeni Husmani played the whole game and got a yellow card in the 18th minute, while his new teammate Agim Ibraimi is still unavailable because he is missing some documents to be officially registered. Their Domžale, who last season won the cup, faced early elimination in the eight-finals.
Spain, Primera División, Levante – Real Sociedad 3:0
Enis Bardi played the full 90 minutes for Levante and scored another beautiful goal, this time from a free kick in the 89th minute.
Bardi's free kick goal:

Sweden, Allsvenskan, Norrköping – Häcken 4:1
David Mitov Nilsson was the whole game between the posts for Norrköping and conceded one goal in this important win against the direct rival for the Europa League spot.
Highlights:

Thailand, Toyota Thai League, Muangthong United – Bangkok United 4:0
Mario Gjurovski played the whole game against his former team and suffered a heavy defeat.

Turkey, Ziraat Türkiye Kupası, Batman Petrolspor – Göztepe 3:1
Adis Jahovikj was given a rest in this cup game, but his team faced early and surprising elimination by a fourth division club.