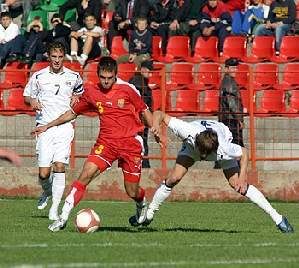 The coach of the Macedonian U21 national team Mirsad Jonuz, named the squad for the match away to Greece from the qualifying competition for the 2011 UEFA European U21 Championship. The match will be played in Tripoli on March 28th.
Macedonia is in the Group 9 together with England, Portugal, Greece and Lithuania and right on the beginning of the qualifications, the Macedonian U21 national team will travel to Greece.
Macedonian U21 squad:
Goalkeepers:
Aleksandar Vrteski – Pobeda
Kristijan Naumovski – Rabotnicki
Defenders:
Aleksandar Lazevski – Partizan (SER)
Dino Najdoski – Vardar
Vladimir Dimitrovski – Croatia Sesvete (CRO)
Daniel Georgievski – Međimurje (CRO)
Tomislav Blazevski – Bregalnica Stip
Midfielders:
Trajce Lostovski – Lokomotiv Dryanovo (BUL)
Sevdailj Selmani – Bayer Leverkusen (GER)
Dragan Stojkov – Isiliakos (GRE)
Emir Sabani – Metalurg
Dusan Sumovski – Makedonija GjP
Marko Pavlov – Real Betis Balompie (ESP)
Attackers:
Dragan Georgiev – Turnovo
Samir Fazli – Heerenveen (HOL)
Ilija Nestoroski – Pobeda
Mirko Ivanovski – Makedonija GjP
Agim Ibraimi – Olimpija (SLO)
– "This will be a historic match because it will be the first time as the U21 teams of Macedonia and Greece will meet. They have good squad as two years this generation played on the U19 European Championship. We'll try to prepare well and play with no pressure as this is our first match and every positive result will be a success and good start for the qualifications." said coach Mirsad Jonuz.
The only problem in front of this match is Marko Pavlov for who Macedonia is still waiting approval from FIFA because of his previous appearances for the youth national teams of Iceland. If there is no approval on time, a player from the Macedonian league will be called up on his place.
The Macedonian U21 will have the first meeting on March 23rd in Strumica, where the short preparations will be done before the trip to Greece.