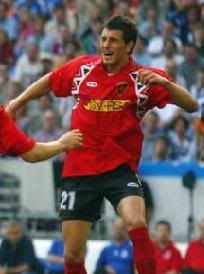 There were not a lot of matches played on this Wednesday which was reserved for the UEFA Cup final. However thanks to the good accuracy of our internationals once again we were well represented in the few matches played round Europe.
This Wednesday was excellent day for our players in Serbia. They were three of them to score very important goals for their clubs. Our fist scorer on this matchday in Serbia was Bojan Markovski from OFK Beograd, who opened the score against the Serbian Cup winner and the leader of the Serbian League, Partizan. He scored from a header after a corner kick in the second minute of the game. After the pure fist 15minutes, Partizan has began to play well and managed to score three goals till the end of the mid time. Partizan won the match with the score of 1:3, and the second goal was scored from a penalty, after the challenge of Markovski on Jovetic. With this win Partizan kept the three points distance in front of Red Star, two day before the end of the season. For Partizan and Red Star no Macedonian players took a part of the game.Vlatko Grozdanoski, our best player in the Serbian Meridijan League and certainly the best Vojvodina's player, has scored as well. This time he has equalized for his team one minute before the end of the fist half time, giving the chance to his club to win the game in the second half against their host Sartid Smederevo. The final score was 1:2, while the home side of Satid has played 67minutes with ten players. Our last scorer in Serbia was Ostoja Stjepanovik who scored the only goal for his team Cukaricki in the 1:0 win over Bezanija.
This Wednesday the match from the Albanian League were played as well. Macedonian scorer on this matchday in Albania was Arben Nuhiu who scored the forth goal for Elbasani in the 5:1 win over Kastrioti Kruje. In the team for the home side was also present Toni Meglenski.