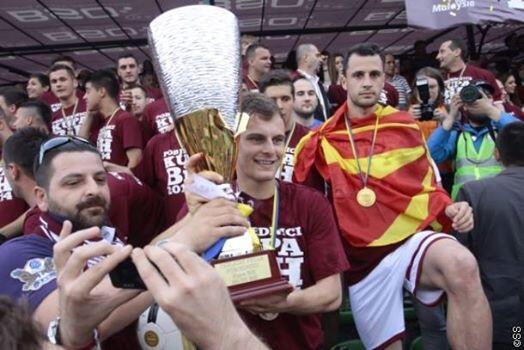 Krste Velkoski added another goal for Sarajevo to help his club win the Bosnian Cup trophy, Nikola Jakimovski provided an assist for Jagodina, while Mirko Ivanovski's team, Astra, won the Romanian Cup trophy over Daniel Georgievski and Steaua București.
Italy, Serie B, Cesena – Latina 1:3
Stefan Ristovski was not included in the Latina squad due to a yellow cards suspension.
Romania, Cupa României, Steaua București – Astra 0:0  (Astra won Romanian Cup 4:2 on penalties)
Daniel Georgievski started at right-back for Steaua București and played until the 44th minute when he was replaced by Claudiu Keserü, while Mirko Ivanovski was not included in the 18 player matchday squad by Astra.  Georgievski also received a yellow card in the 36th minute.  Since the score was 0:0 after 90 minutes and remained that way after 30 more minutes of extra time, the match went into penalty kicks where Astra prevailed 4:2 to win the Romanian Cup trophy.
Romania, Liga II, Gloria Bistrița – CS Universitatea Craiova 1:3
Tome Kitanovski was an unused substitute for CS Universitatea Craiova.
Norway, Tippeligaen, Brann – Vålerenga 2:3
Daniel Mojsov was not summoned in the Brann squad due to a yellow cards suspension.
Poland, T-Mobile Ekstraklasa (Championship Group), Wisła Kraków – Górnik Zabrze 2:3
Ostoja Stjepanovikj played all 90 minutes for Wisła Kraków who had a 2:1 lead at the halftime break, but Górnik Zabrze scored two goals after the break to take home all three points.
Poland, I Liga, GKS Bełchatów – Flota Świnoujście 3:0
Hristijan Kirovski was an unused substitute for GKS Bełchatów.
Spain, Segunda Division, Sporting de Gijón – Barcelona B 1:0
David Babunski was not included in the Barcelona B squad as he was with the Macedonian national team at their training camp base in Austria.
Serbia, Jelen SuperLiga, Voždovac – Rad 2:1
Aleksandar Lazevski played the entire game for Rad who edged closer to relegation after the latest loss to Voždovac.  Lazevski was also shown a yellow card in the 42nd minute.  There is one more round in the Serbian league and Rad must win that final game and also receive a lot of help to avoid relegation.
Serbia, Jelen SuperLiga, Napredak – Vojvodina 0:2
Stefan Ashkovski was not included in the Napredak squad as he was still with the Macedonian U21 national for their upcoming friendly against Qatar on 27 May.
Serbia, Jelen SuperLiga, Crvena Zvezda – OFK Beograd 4:2
Darko Micevski played all 90 minutes for OFK Beograd who suffered a road defeat against Crvena Zvezda which allowed the winning side to clinch the Serbian league title.  Micevski had just played the full match with Macedonia U21 this past Friday and did so again on Sunday with his club team OFK Beograd.
Serbia, Jelen SuperLiga, Jagodina – Javor 1:1
Nikola Jakimovski started on the wing for Jagodina and played until the 90th minute when he was replaced by Nikola Mojsilović.  Jakimovski provided the assist on the lone Jagodina goal in the 23rd minute when his corner kick from the left hand side was headed to the back of the net by Milan Đurić.
The assist by Jakimovski (at 0:30):
Serbia, Jelen SuperLiga, Novi Pazar – Radnički Kragujevac 0:1
Dragan Chadikovski was not among the 18 players called up by Radnički Kragujevac.
Bosnia and Herzegovina, Kup Bosne i Hercegovine, Sarajevo – Čelik 3:1
Krste Velkoski got the start for Sarajevo and played until the 77th minute when he was substituted by Ognjen Todorović.  Velkoski scored the opening goal of the match in the 67th minute with a right footed shot from close range after his first attempt was blocked by a Čelik defender.  Sarajevo won the Bosnian Cup by winning 5:1 on aggregate over the two games.
Video of the goal by Velkoski (at 0:10):
https://youtube.com/watch?v=2AbFdJle0z8
Czech Republic, Gambrinus Liga, Slavia Praha – Slovácko 1:1
Veliche Shumulikoski played the entire game for Slovácko who scored a late goal to take home a point from the encounter against Slavia Praha.  Shumulikoski had a good chance in the 62nd minute, but his header was saved by the opposing keeper.
Czech Republic, Gambrinus Liga, Jihlava – Příbram 3:0
Zoran Danoski started on the bench for Příbram before he entered the game in the 67th minute to replace Lukáš Stratil.
Kazakhstan, Premyer Ligasi, Kaisar – Astana 1:0
Dushan Savikj was an unused substitute for Kaisar.
Sweden, Allsvenskan, Falkenberg – Häcken 1:1
Leonard Zuta played all 90 minutes for Häcken who took the initial lead early in the 3rd minute before conceding an equalizer midway through the 2nd half in the 67th minute.
Slovenia, PrvaLiga Telekom Slovenije, Maribor – Domžale 0:0
Zeni Husmani opened the game on the bench for Domžale before he was introduced in the 72nd minute replacing Anže Jelar.
Greece, Football League Play-offs, Kerkyra – Iraklis Psachna 2:1
Zoran Baldovaliev started in attack for Kerkyra and played until the 53rd minute when he received his second yellow card of the match, leading to a red card.
Austria, Erste Liga, Kapfenberg – Horn 2:0
Filip Gachevski stayed on the bench for Kapfenberg as the #2 keeper behind Christoph Nicht.