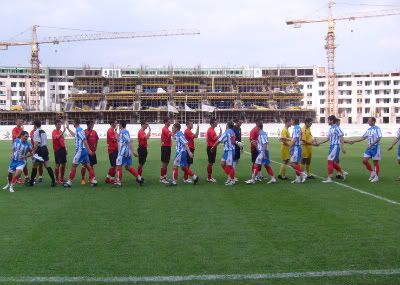 The fourth round is completed and Vardar is the only team with maximum points collected so far after their win over Renova. Sunday's matches were marked with the 1-1 score after 3 games finished with that result

Vardar Skopje – Renova 3:1 (1:0)
45' Ali, 63' Milisavlevic, 72' Petrov – 85' (pen) Emini
Vardar have continued with good play and it is 3 out of 3 for them. 3 matches so far, 3 victories, every time 3 goals scored. Impressive start to the nr. 1 favorite for winning the title. Musa Ali opened the scoreline today just before the halftime whistle and it was 1-0 for the hosts on the half-time break. Milisavljevic in the second half scored the second goal for Vardar and Filip Petrov confirmed the victory with the third goal of the match scored in the 72nd minude. Renova managed to get one back, when Emini scored from the penalty spot, but that is all they got from this match.
Pelister – Rabotnicki 1:1 (1:1)
10' Momirovski – 8' Kirovski
The derby in Bitola got off to an excellent start and in two minutes the fans on the stadium saw 2 goals. Kirovski opened the result and brought a lead to the visitors. But, only 2 minutes later Momirovski equalized and that was the final score. Momirovski made a bit harsh foul and was given a straight red card in the 35th minute which made things harder for the hosts. However, in the second part of the match teams were more-or-less equal and despite several good chances on the both sides, the result remain unchanged.
Metalurg – Turnovo Horizont 1:1 (0:0)
77' Petreski – 48' Krstev
In the match between the two promoted teams, the points were shared. Equal play in the first half and very good start for the visitors in the second half. Right after the referee's whistle marking the start of the second half, Krstev scored a goal for Turnovo and the visitors were up by 1 and looking good. However, after one chance for the hosts and a big crowd in front of Turnovo's goal Petreski was the fastest to react and set the final score.
Pobeda – Napredok 1:0
89' Nastoski
3 defeats for Pobeda meant red alert for everybody. Napredok was today's opponents and Pobeda's chance for 3 points. But, that mission looked tough as Napredok's goalkeeper was amazing throughout whole match. He should take the credits for Napredok's not conceding more goals on this match. Right when everybody thought that this would be another draw and everybody expected the final whistle, Nastoski managed to score a goaland brought 3 points for his team.
Sileks – Makedonija GP 1:1
62' Stupic(pen) – 30' Brnjarchevski
Makedonija Gjorche Petrov looked like they will return from the always tough trip to Kratovo with full spoils when Brnjarchevski scored a goal in the 30th minute. However, Stupic denied that when he scored a goal from the penalty spot in the 62nd minute.