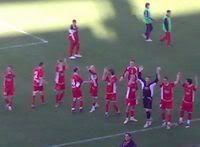 Rabotnicki won with 1:0 against Milano in the opening match of the 20th round and on 13 rounds before the end of the season, Rabotnicki with +13 points have one hand on the title.
Rabotnicki and Milano played the most important match of this round and the match that probably confirmed the champion for this season. In a match with far more fouls and offside then created chances, Nderim Nedzipi in the 38th minute used one of the rare chances and with a header scored the only goal on the match.
Vardar didn't use the chance to get closer to the 2nd position after failing to win away to Bashkimi in Kumanovo on the stadium without fans because of Bashkimi's supension. Dusan Savic scored for Vardar towards the end of the match, but in the last minutes Aleksandar Konjanovski scored an equalizer and won a big point for last placed Bashkimi.
Pelister successfully continued their fight for a spot that will take them in Europe next season. They marked their third away win this season in Cementarnica with a fantastic goal scored by Blagojce Glavevski in the first half.
Makedonija GP stopped their bad run and won after 4 matches. Dragan Brnjarcevski took the lead for Makedonija with his great goal from free kick and Blagojce Rutevski quickly scored for Shkendija and equalized the score. The hosts went on the break with a lead after Daniel Mojsov scored in the 35th minute and in the second half Malsor Gjombalaj with his 2 goals confirmed the win for Makedonija GP over struggling Shkendija.
Effective match with 5 goals were also able to see the visitors on the "Goce Delcev" stadium in Prilep. Dimitar Kapinkovski, Kliment Nastoski, Nove Aceski and Nikola Tripunovski scored the goals for Pobeda. Napredok managed to score only a goal by Pop Panev, although they played 30 minutes with a player more after Kapinkovski was sent-off.
Renova also hosted Sileks with no fans because of their suspension. Marjan Andonov scored for the hosts, but Bosko Stupic quickly equalized and set the final score.
Rabotnički
Nedzipi 38
1-0
Milano
Bashkimi
Konjanovski 90
1-1
Vardar
Savic 84
Cementarnica
0-1
Pelister
Glavevski 14
Renova
Andonov 58
1-1
Sileks
Stupic 67
Pobeda
Kapinkovski 28, Nastoski 33, Aceski 45, Tripunovski 90
4-1
Napredok
Pop-Anev 38
Makedonija
Brnjarcevski 18, Mojsov 35, Dzombalaj 74, 80
4-1
Shkendija
Rutevski 30