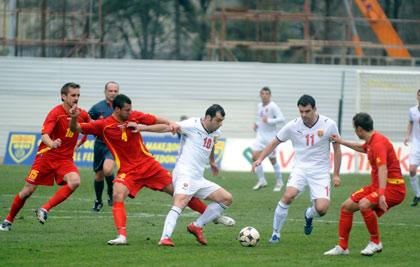 During the international break in November, Macedonia will play a home friendly against Montenegro on November 12.
Both Macedonia and Montenegro failed to automatically qualify or reach the play-offs in the EURO 2016 qualifications, so each side was free in November. Since there is also an international break next month, to decide the play-off winners, Macedonia will use that occasion to play a friendly. Earlier on Tuesday, the Macedonian federation announced it has scheduled a home friendly against Montenegro on November 12. It will be played at the "National Arena Philip II of Macedonia" in Skopje.
The goal by Goran Popov in the first meeting:
This will be the third meeting between Macedonia and Montenegro. Each team has won 2:1 at home. Montenegro won 2:1 in Podgorica in November of 2008, before Macedonia won 2:1 in Skopje in March of 2010. Each of them have been friendlies.
The goals by Goran Pandev and Ilcho Naumoski in the second meeting:
Montenegro is led by Stevan Jovetic (Inter), Mirko Vucinic (now based in the United Arab Emirates) and Stefan Savic (Atletico Madrid). They finished in 4th place in their group for the EURO 2016 qualifications, behind Austria, Russia and Sweden. Montenegro is ranked #72 on the current FIFA rankings.