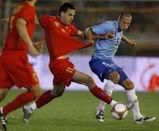 Another good performance by the Macedonian national team against big team, but still Holland proved to be a big favorite and succeed to get the first points in Skopje in the WC 2010 qualifications.
The Dutch team brought Macedonia back on ground, after the big euphoria because of the win against Scotland four days ago. But still, Netherlands didn't outplay Macedonia and the pain after the defeat is even bigger because of that and because of the two disallowed goals.
As usual, Macedonia had good performance in the first half. Goran Pandev had few chances, but nothing serious, until the 35th minute when he scored a goal. But the goal was disallowed with a dubious decision by the referee, because of an offside after Shumilikoski's assist.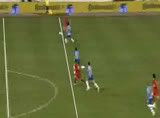 And then, right on the beginning of the 2nd half, Heitinga opened the score with a header after a cross from Arjen Robben. In the 60th minute, van Bommel assisted Van der Vaart who doubled the lead with a fierce shot in Miloshevski's net.
But the Macedonian team, despite the Dutch lead, managed to consolidate and started attacking. Another goal was disallowed in the 66th minute, but this time the decision was right. In the 77th minute, Goran Pandev restored Macedonian hopes when he scored a goal from the penalty spot, after Naumoski was fouled in the box.
Until the end of the match, Macedonia continued attacking, but failed to equalize and Netherlands managed their first win against Macedonia in the third played match.
Macedonia – Netherlands 1-2 (0-0)
WC 2010 qualifications
Gradski stadion, Skopje
Attendance: 12000
Referee: Grezegorz Gilewski (Pol)
46' Heitinga 0-1
60' Van der Vaart 0-2
77' Pandev(pen) 1-2
Yellow cards: Naumoski (Mac), Van Persie, Van der Vaart, Huntelaar (Ned)
Macedonia: Milosevski; Noveski, Sedloski, Mitrevski, Lazarevski (58. Petrov); Grozdanoski, Sumulikoski, Trajanov (83' Ristic), Maznov (61' Tasevski), Pandev, Naumoski
Netherlands: Stekelenburg; Heitinga, Ooijer (28' Boulahrouz), Mathijsen, Van Bronckhorst; Van Bommel, De Jong; Van Persie (70' Kuyt), Van der Vaart, Robben (82' Afellay), Huntelaar