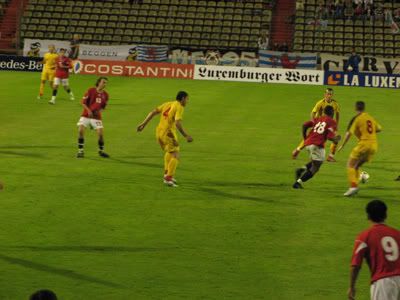 The Macedonian national team has finished the preparations before the start of the WC 2010 qualifications, with a 1:4 win on the friendly match away to Luxembourg. Read the minute-after-minute live update by MacedonianFootball.com
Luxembourg
Macedonia
1 (0

– 3) 4
73' Kitenge

6' Pandev
33' Grozdanoski
45' Pandev
49' Naumoski
Stadium Josy Brathel in Luxembourg
Luxembourg: Joubert, Hoffmann, Strasser* (46' Payal), Kintziger, Reiter, Geisbusch* (88' Sagramola), Peters, Mutsch, Leweck* (Da Mota 73'), Bettmer* (46' Gerson), Joachim* (46' Kitenge)
Macedonia: Milosevski*(46' Pacovski), Sedloski, Mitreski, Noveski*(64' Vajs), Lazarevski* (64' Polozani), Popov(46' Petrov), Sumulikoski, Grozdanoski, Pandev, Maznov* (Tasevski 46'), Naumoski* (82' /).
This will be the last test for both teams before the beginning of the WC 2010 qualifications tournament. Macedonia hosts Scotland, while Luxembourg will play against Greece.
Kick-off.
Second minute and first chance on the match. Luxembourg had an attempt on goal, but Joachim shot went high.
GOAL FOR MACEDONIA!!! Goran Pandev was the first to react after one of Luxembourg defenders blocked a cross and Pandev with a strong shot scored the first goal for Macedonia.
Excellent chance for the hosts right now when after a cross Leweck made a header and the ball finished behind our goal.
Corner kick for Macedonia now and Luxembourg GK Joubert made a huge mistake but Leweck cleared the ball of the line.
Mutsch sent a shot on goal, but Milosevski saved the ball.
Free kick for Popov, but the ball is blocked.
Excellent one-two between Naumoski and Pandev, but Naumoski was caught offside.
Lazarevski crossed, but Reiter sends the ball into the second corner for Macedonia.
GOAL!!! Vlatko Grozdanoski! After a very good build-up and one-two between Vlatko and Ilco Naumoski, the first found himself in an excellent position and with a low shot sent the ball between Joubert's legs.
Pandev once again in offside. Great chance ruined.
Naumoski missed an excellent chance after a great pass from Pandev.
Hoffmann tried to surprise Milosevski from way out with a lob shot, but the ball goes wide.
Pandev had a great chance in the box, but it will only be a corner.
GOAL!!! Pandev for 0-3. After the corner, Pandev got to the ball and with an excellent shot from the edge of the box scored his second of the game and it is 0-3 for Macedonia right now.
Half-time break. We will be back in 15 minutes.
Second half has started.
Both teams have made 3 substitutions.
GOAL!!! Naumoski! 0-4.
Pandev sent an excellent ball towards Naumoski and the latter scored the 4th goal for Macedonia today with a powerful header.
Lazio's player had another chance but Joubert blocked the shot.
Mitreski made a mistake in the defense, Pacovski confirmed it, but luckily the ball ended up into a corner for the hosts.
Vajs and Polozani are preparing to make it into the match.
Petrov sends the ball into a second corner for Luxembourg, but Sumulikoski clears the ball.
Two more subs for Macedonia and now every player has been given a chance in this match.
GOAL!!! This time for Luxembourg.
Kitenge received an excellent ball and with a strong shot scored a goal for his team. Pacovski couldnt have saved that ball. 1-4.
Macedonia will continue the match with 10 players after Naumoski has suffered minor injury and Katanec has used all 5 subs.
Kitenge has made an attempt with a header but the ball finished high above the goal.
3 minutes till the end.
90th minute.
End.