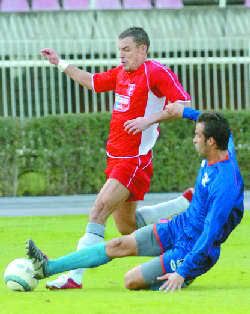 Serbian born attacking left midfielder with Macedonian passport and former best foreigner in the Macedonian league, the 25-years-old Ivan Pejčić, moves to Switzerland in FC Aarau.
Ivan Pejčić spent 4 years in the Macedonian league and while playing for Rabotnicki he was known as one of the best and fastest players in the league. Pejčić was named as best foreign player in the Macedonian league for 2005 and 2006 and later he got Macedonian citizenship and was mentioned as possible member of the Macedonian national team.
Many bigger teams were interested for him and for a long time he was connected with Belgian and Korean clubs. This summer Swiss clubs FC Aarau invited him in their training camp. There he spent more then a week and played on the friendly matches agains Baden and Wohlen. He impressed with his play on the test matches and signed a three-year contract with the 5th placed team in the Swiss league last year.