Well deserved point on the road for Macedonia against the 4 time World Cup champions thanks to a goal by Trajkovski beautifully served by Pandev.
Macedonia ended the hopes for a better position than the fifth place in the Group G, but ended them in style with a draw against Italy in Turin.
The 4 times world champion once again showed that their national team is in crisis and with a bad play allowed Macedonia to record a decent result. Hit by many injuries, Ventura had to field a combined team with one debutante in the starting eleven, Bologna's attacked Simone Verdi. Angelovski also surprised with the squad putting Ristovski among the three CBs and giving Radeski a chance in the starting line-up for the first time.
The first chance was for Insigne in the 7th minute, but Dimitrievski was in place. Ten minutes later Pandev beautifully controlled a ball on the edge of the box, but failed to shot better and Buffon made an easy save. Italy dominated the possession, but without serious chances.
The goal came five minutes before the break. Italy took a corner kick, the ball got cleared by the Macedonian defense, but Insigne passed to Immobile on the rebound and the later served Chiellini who scored.
The second half started with Ventura being forced to substitute Barzagli with Rugani as he reported an injury. Macedonia was better after the break, trying to steal the possession from the hosts, but a serious chance was still missing.
Aleksandar Trajkovski came in instead Hasani in the 64th minute and that proved to be a smart move by Angelovski who eventually made an early substitution. He was often criticized for making changes too late in the games.
Spirovski had an attempt from distance which wasn't a problem for the legendary keeper Gigi Buffon. Then, Velkovski got injured by himself and asked to be immediately substituted, so Zajkov was given a chance.
Just two minutes after that change Macedonia equalized. Dimitrievski reached Nestorovski with a long ball, Palermo's captain controlled the ball and immediately gave it to Pandev who then beautifully served Trajkovski. One on one with Buffon, the second Palermo player fired in the Italian goal making it 1:1.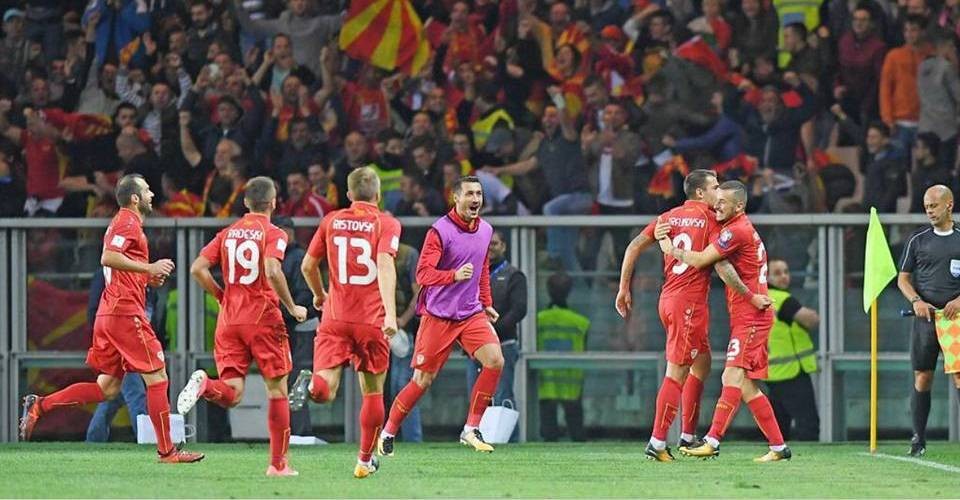 That goal was a wake up call for the Azzurri who started playing more aggressively, but at the same time the Macedonians eventually realized that they can get something from this game. It seemed that it was too late for more changes of the result and the match ended 1:1. After the game the Lynx went to the Macedonian fans to celebrate the draw against the football giant.
Highlights:
To view the match report, click here.