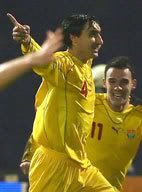 Several notable performances by Macedonian football players that are playing abroad have been achieved this weekend.
    Goran Pandev in his new role played 90 minutes for SS Lazio against AC Milan, in a match that ended 1:1. Pandev played another good match with couple of chances but the goal for Lazio was scored by Bianchi.
   Velice Sumulikoski was once again one of the best players on the field when his Ipswich Town visited Southampton. After Velice has signed for Ipswich, the games that this team plays away from home are not that bad for them and this time they managed to sneak a point in a 1:1 draw.
     Robert Popov did not entered the game for AJ Auxerre against Olimpique Marseille. His team lost to Marseille 2:1.
     Goce Sedloski played another whole game for his club Mattersburg SV, while Ilco Naumoski entered the match in 75th minute. Mattersburg SV won 3 important points at home with a 1:0 victory over Pasching ASKÖ.
    Ivan Trickovski got a glimpse of the all-time Serbian derby between FC Red Star and Partizan Belgrade. Tricko entered the game in 87th minute, after Red Star had already secured the win. Vlatko Grozdanovki had his debut in the Serbian league with his club Vojvodina but they've lost against Smeredevo away from home with 1:0.
    Just like Grozdanoski, Vlade Lazarevski had his debut in Ukrainian football league for his new club Metalist Kharkiv. Vlade entered the game in 75th minute during a 2-0 lead against Vorskla Poltava and the final score was 3-0. Despotovski and Kirovski didn't made an appearance for Vorskla.
    From the internationals that are playing in Germany only Aleksandar Mitreski played whole game. Köln won an important point in a difficult trip to second-placed Fürth. Aleksandar Vasoski is still injured, Nikolce Noveski's Mainz are playing today at 20.15 CET against Freiburg and Igor Mitreski's match with his Cottbus against Stuttgart was postponed.
     In Cyprus, Naumov didn't succeed in scoring a goal against Jane Nikoloski and APOEL won 0:2 away from home against Ethnikos Achnas. Petar Milosevski was between the posts, but Enosis lost 1:2.
    The veteran striker Gjorgji Hrisotv played 66 minutes for his club Den Bosch, but failed to score and they have lost against OmniWorld with 1:0.
    Pance Kumbev had a very good 90′ performance for Groclin and they've won 0:4 away from home. Ivanovski Filip had 10 minutes to score a goal against Belchatow but unfortunately he didn't wrote his name on the scorers' list.