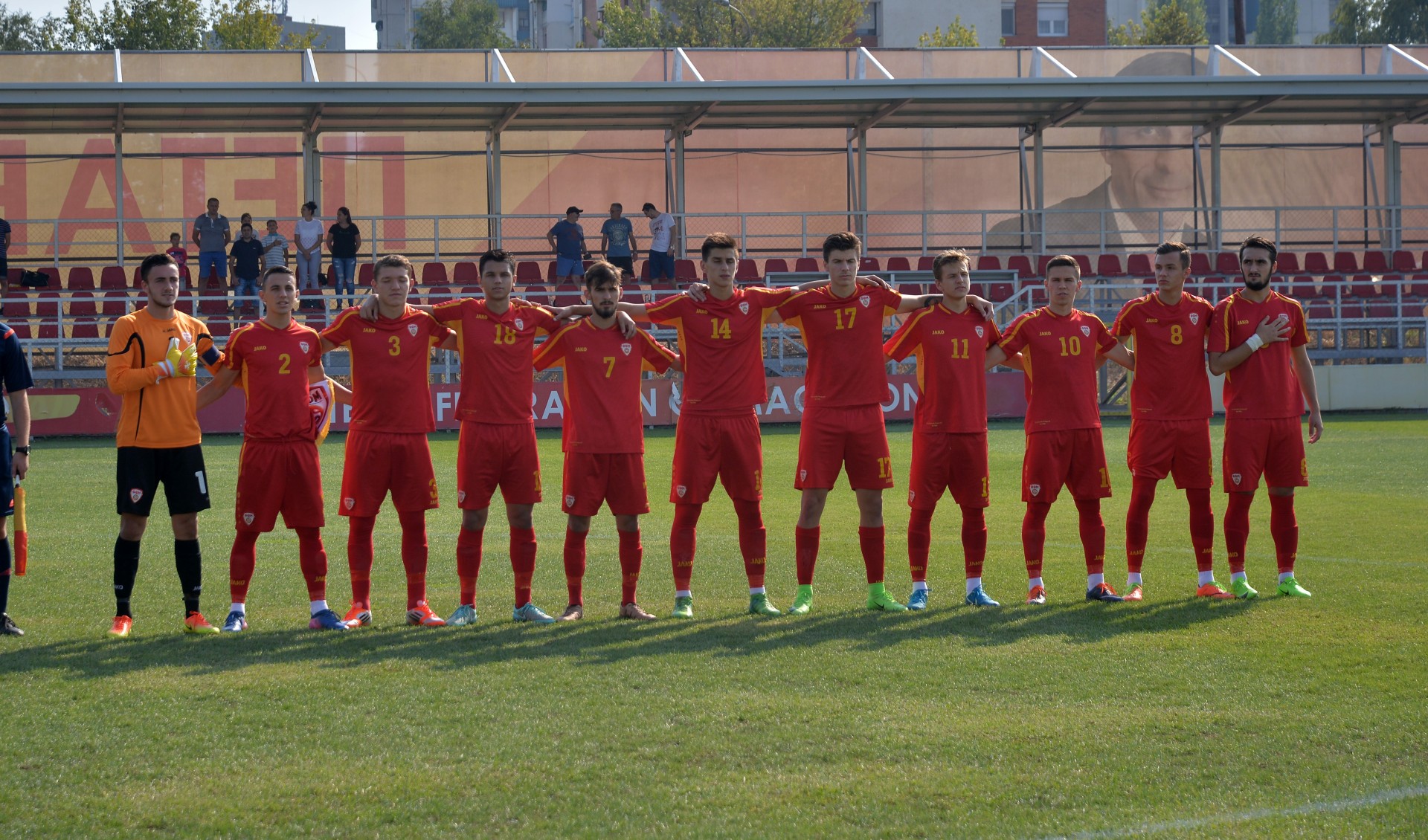 U19 before a friendly; photo: ffm.mk Tomorrow the young Lions will start against Switzerland in the U19 qualification tournament that will take part in Macedonia. Following are two more games against Belgium (11th November) and Liechtenstein (14th November). Kick-off for all games is 13:00 CET.
Macedonia's U17 national team lately advanced to the Elite round as one of the four best third-placed teams. The system in the U19 qualifications is not the same as only the top two from the 13 groups advance to the Elite round. For this cycle eligible are players born in 1999 and later. Coach Vujadin Stanojkovikj called up the following 22 players:
Hristijan Stevkovski - Skopje

Blagojche Ivanov - Sileks

Metodija Velkovski - Vardar
Todor Todoroski - Vardar

Kiril Ristovski - Borec

Antonio Mitrev - Balzan

Oliver Stoimenovski - Qarabağ

Agron Rufati - Lokomotiva

Filip Trajanovski - Häcken

Filip Antovski - Vardar
Jani Atanasov - Akademija Pandev

Enis Fazlagikj - Shkendija

Elif Elmas - Fenerbahçe

Filip Stojchevski - Vardar

Mile Todorov - Rabotnichki

Dimitar Mitrovski - Sporting

Stefan Bogdanovski - Spartak Trnava
Darko Churlinov - 1. FC Köln

Marco Aleksandar Ferukoski - Kickers Offenbach

Kristijan Trapanovski - Slavia

Bojan Miovski - Qarabağ

Bojan Kolevski - Vardar
This generation is considered to be one of the most talented in Macedonia's previous football history. With Elif Elmas, Jani Atanasov, Darko Churlinov and Bojan Kolevski there are even four players who already received a call-up to the senior national team. Every football fan from Macedonia knows Elif Elmas, he is the actual shooting star in our football recently making a big transfer to Turkish giants Fenerbahçe.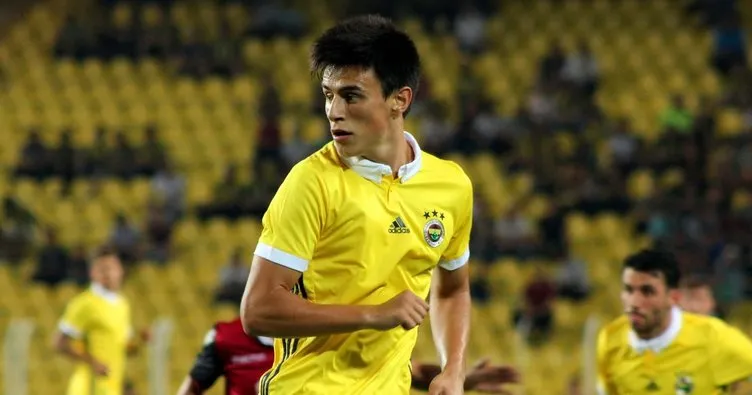 Elif; photo: sabah.com.tr
18-year-old midfielder Elif has not a lot of games for the U19 because he was regularly capped for the senior and U21 national team, but Elmas accepted Stanojkovikj's call-up to help the fellows from his generation. Another star in midfield is Jani Atanasov from Akademija Pandev. This past summer his team won promotion to the Macedonian top tier and despite just turning 18 Jani is already one of the most important players who has the task to lead the team.
Jani; photo: fkakademijapandev.mk
The most offensive role in midfield probably will be the job for Dimitar Mitrovski who is part of Sporting Lisbon's youth academy. Funny fact is that Dimitar was a lookalike of Lionel Messi. Not long ago he had the same haircut like the younger Messi and Mitrovski has also a similar style of play and movement. The attacking midfielder left Macedonia some years ago to head to Germany and last winter he made his move to Portugal. He is a very creative player with great technique and has a precise left-footed shot.
Dimitar (R); photo: justgol.com
One of the most underrated players of this generation is Kristijan Trapanovski. Kristijan was part of Akademija Pandev and moved in August, when he turned 18, to Czech side Slavia for a transfer fee of €100,000. Kristijan is a very fast and agile winger and in combination with his technique and great football skills he has everything to become a football star, but needs time because he has to strengthen his physique to adopt to senior football.
Kristijan (R); photo: slavia.cz
Another winger on the team is Darko Churlinov who is the youngest novice in Macedonia's senior national team history. Darko has great dribbling skills and is part of 1. FC Köln from Germany. Like Mitrovski, he also left Macedonia on a young age to play football in Germany. They were even teammates at Hansa and Magdeburg.
Darko; photo: 90min.de
Centre-forward Bojan Kolevski has also a cap for Macedonia's senior team, but it was not an official game since it was a friendly between the senior and U21 team, otherwise he would have been the youngest novice since he was back than younger than Churlinov at his first game. Kolevski came nearly out of nowhere and later on he moved from Metalurg to Vardar. LikeChurlinov he is born in 2000, thus he is also eligible to play even in the next U19 cycle. After an injury sidelined Nikola Bogdanovski it's possible that Bojan will have the task to play up front.
Bojan Kolevski; photo: fkvardar.mk
Well, let's not forget the defense. At right-back there is a young guy that gets more and more playing time at Macedonian reigning champion Vardar. Todor Todoroski is an athletic full-back who is always very active on the field and never stops fighting.
Todor; photo: fkvardar.mk
A quite new addition to the defense is Filip Trajanovski from Swedish side Häcken. The central defender is born and raised in Sweden, he has also caps for their youth national teams, but a couple of months ago he accepted FFM's offer to play for Macedonia.
Filip Trajanovski; photo: ungdomsfotboll.se
No disrespect to the other players on the roster. There are 22 footballers in the squad and everyone has an important role for the team, but we picked up the above mentioned to introduce a part of the team. Even though this as a very talented generation with a bunch of big talents, unfortunately we are in a very tough group. Switzerland and Belgium have always strong youth teams and there are a lot of stars in the raising on their rosters. Let's hope that our young Lions will be able to transmit their quality and talent to the pitch. By the way, probably the games will be shown on the FFM site (tv.ffm.mk). Keep on mind that you have to register to watch the streams, but it's really not complicated, for free and takes just a minute.
---