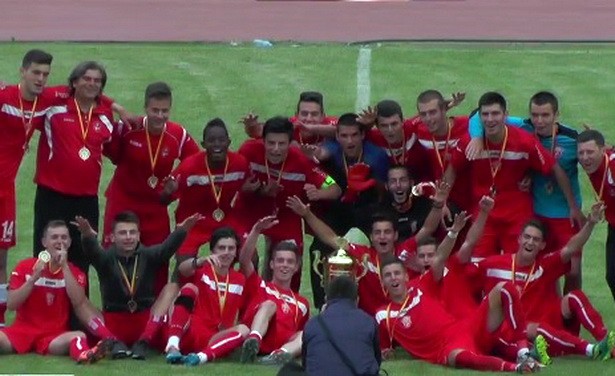 The players of Rabotnichki with the trophy; photo: FFMThe youth players of Rabotnichki were crowned Cup champions in another category after once again beating Akademija Pandev.
Double title for Rabotnichki yesterday. After winning the U18 Cup final with a 3:0 win over Akademija Pandev in the morning on Tuesday, in the evening Rabotnichki faced the same opponent in the Cup final for the U19 category.
Early in the 9th minute Rabotnichki broke the deadlock with Elmas' free kick goal. Later the same player doubled the lead and rabotnichki went on half-time with a 2:0 lead. After the break Trapanovski brought Akademija Pandev back in game, but that lasted only 4 minutes as than Fazliu scored a third goal cementing the win for the Reds.
Atina Bojadji stadium in Ohrid
Rabotnichki U19 - Akademija Pandev U19 3:1 (2:0)
Goals: 9', 27' Elif Elmas, 64' Ljavdrim Fazliu - 60' Kristijan Trapanovski
Rabotnichki: 1. Petar Mitev; 13. Alexander Borja Cordoba, 4. Kristijan Ackovski, 23. Filip Gichevski, 6. Ilija Dalcheski (63' 9. Bozhidar Angelovski), 22. Martin Petrovski (90'+3 7. Bozhidar Grozdanoski), 14. Nehar Sadiki, 8. Kiril Ristovski (46' 17. Damjan Veligdenov), 10. Elif Elmas (C), 11. Ljavdrim Fazliu (74' 15. Damjan Stojanovski), 18. Viktor Stojkovski. Bench: 12. Risto Jankov; 3. Nikola Franc, 16. Besar Bushi.
Akademija Pandev: 12. Riste Shpirov; 14. Igor Petkov (C) (34' 8. Nikola Dimovski), 2. Robert Papuchiev, 3. Mihail Manevski, 5. Hristijan Delevski, 13. Andon Shilinov (68' 18. Metodij Gjorgichkov), 27. Goran Tomovski, 9. Aleksandar Mishov, 10. Jani Atanasov, 17. Daniel Milovanovikj, 11. Kristijan Trapanovski. Bench: 1. Branko Gjorgev; 6. Vane Jovanov, 7. Nikola Stojkov, 15. Stojancho Nakov, 16. Dimche Manchev.
Yellow cards: Ristovski, Elmas, Sadiki (R), Delevski, Mishov, Trapanovski, Dimovski, Shpirov, Trapanovski (AP)
Red cards: 84' Trapanovski (AP)
Referee: Blagojche Ralevski (Bitola)
Assistants: Kiril Negrieski & Simon Grdanoski (Struga)
Fourth official: Jovan Kachevski (Struga)
On their road to the final game Rabotnichki first eliminated Vardar Negotino with 5:0, then had a bye in the second round, while in the semis they were better than Milano on aggregate with a 3:0 home win and a 2:0 road defeat.
---