Ivan Trichkovski celebrating one of his goals, photo: AEK.com.cyIvan Trichkovski, Adis Jahovikj and Bazhe Ilijoski scored two goals each, Ezgjan Alioski added one more for Lugano, as did Enis Bardi for Újpest while Marko Simonovski recoded an assist.
Albania, Kategoria Superiore, Korabi - Partizani 0:1
Nderim Nedјipi made the start for Korabi and played until the 66th minute.
Albania, Kategoria Superiore, Skënderbeu - Kukësi 0:0
Izair Emini wasn't called up by Kukësi for this game, while Nijas Lena started in midfield for the visitors and played until the 70th minute. Eventually, the game ended in a goalless draw.
Australia, A-League, Adelaide United - Melbourne Victory 1:2
Daniel Georgievski played the entire game at left-back for the visitors.
Austria, Tipico Bundesliga, Sturm - Mattersburg 2:2
Uroš Matić opened in defensive midfield and played the whole game as his team collected just one point against Mattersburg.
Belgium, First Division B, OH Leuven - Cercle Brugge 2:0
Jovan Kostovski opened in attack for Leuven and played nearly the whole game as he was replaced in the 89th minute.
Bulgaria, Parva Liga, Lokomotiv Plovdiv - Dunav Ruse 0:0
Vancho Trajanov started in defensive midfield for Lokomotiv and played until the 78th minute, while his teammate Stefan Jevtoski was an unused substitute. Meanwhile, Darko Stojanov wasn't called up by Dunav Ruse.
Croatia, MAXtv Prva Liga, Rijeka - Inter Zaprešić 1:0
Rijeka continues with their good plays in Croatia and have noted a new win. Stefan Ristovski and Leonard Zhuta both played the whole match and Ristovski was shown a yellow card. For the opposing side, Marjan Altiparmakovski was started and played until 76th minute and was also shown a yellow card in the process. In the meantime, reports from Inter are saying that Zoran Danoski is no longer their player.
Zhuta jumps over Ivan Blažević; photo: NK Rijeka
Croatia, MAXtv Prva Liga, Split - Slaven Belupo 3:0
Vlatko Stojanovski still hasn't made the breakthrough to the squad for RNK Split, while Mirko Ivanovski played the whole match for the visitors in this heavy defeat.
Croatia, MAXtv Prva Liga, Osijek - Lokomotiva 1:0
Muzafer Ejupi and Milovan Petrovikj were both starters for Osijek on this match. Ejupi played 90 minutes before he was tactically taken off. He has scored a goal but was later ruled out for offside. An interesting situation you can see on the below video at 3:15. Meanwhile, Petrovikj was taken off on half-time and the player replacing him actually scored the winning goal for Osijek.
Ejupi's disallowed goal (at 3:15):

Croatia, MAXtv Prva Liga, Istra 1961 - Hajduk 0:0
Risto Mitrevski played the whole match for Istra and was part of a defense that kept clean sheet against Hajduk.
Cyprus, Cyta A, Zakakiou - AEK 2:5
Another great game for Ivan Trichkovski as he scored two goals on this match and contributed one assist before he was taken off in the 75th minute. Daniel Mojsov played the whole match as AEK are still on a perfect run with 8 wins out of 8 games.
Game highlights:

Cyprus, Cyta A, APOEL - Ethnikos - 2:0
Martin Bogatinov was unavailable for this match as he was still suspended. He should be back in the squad from the next match as his suspension is now over. Mite Cikarski was not included in the matchday squad.
Czech Republic, ePojisteni.cz, Vysočina - Dukla 1:1
Yani Urdinov is back to the starting line-up and he played the whole match for his team as left back. His team is still searching for a win after 11 rounds.
Czech Republic, ePojisteni.cz, Slavia - Slovácko 1:0
Veliche Shumulikoski played the whole match in his team's narrow away defeat.
Finland, Veikkausliiga, PK-35 - Inter Turku 2:1
Both Egzon Belica and Kosta Manev were starters in defense for the visiting side. Manev played the whole match, while Belica was taken off and replaced on half-time.
Greece, Souper Ligk, Kerkyra - Asteras 2:0
Vladimir Dimitrovski was not part of the matchday squad.
Hungary, OTP Bank Liga, Újpest - Diósgyőr 4:4
Enis Bardi started the game for the hosts and scored one goal in this eventful match before he was taken off in the 86th minute, while Viktor Angelov was brought on in the 69th minute.
Bardi's goal (at 4:50):

Hungary, OTP Bank Liga, Debrecen - Vasas 1:2
Kire Ristevski played the whole match for the visitors as they extended their dream run. Ristevski was this time used as left back in a 4-defenders formation rather then a CB in a 3-defenders formation as his club often used.
Ristevski against Robert Vittek; photo: DVSC
Italy, Serie A, Sampdoria - Genoa 2:1
Goran Pandev started in this big local derby known as the Derby della Lanterna. In the 31st minute he scored a goal on rebound to bring Genoa the lead, but the referee ruled it out for offside. It is a very suspicious situation as you can see on the video bellow. Eight minutes from time he was substituted by Nikola Ninković as Genoa's last move from the bench.
Pandev's dissallowed goal (at 3:09):

Italy, Serie A, Roma - Palermo 4:1
Despite the recent knee injury Ilija Nestorovski recovered in time and played the whole game against Roma. His teammate Aleksandar Trajkovski is still not available.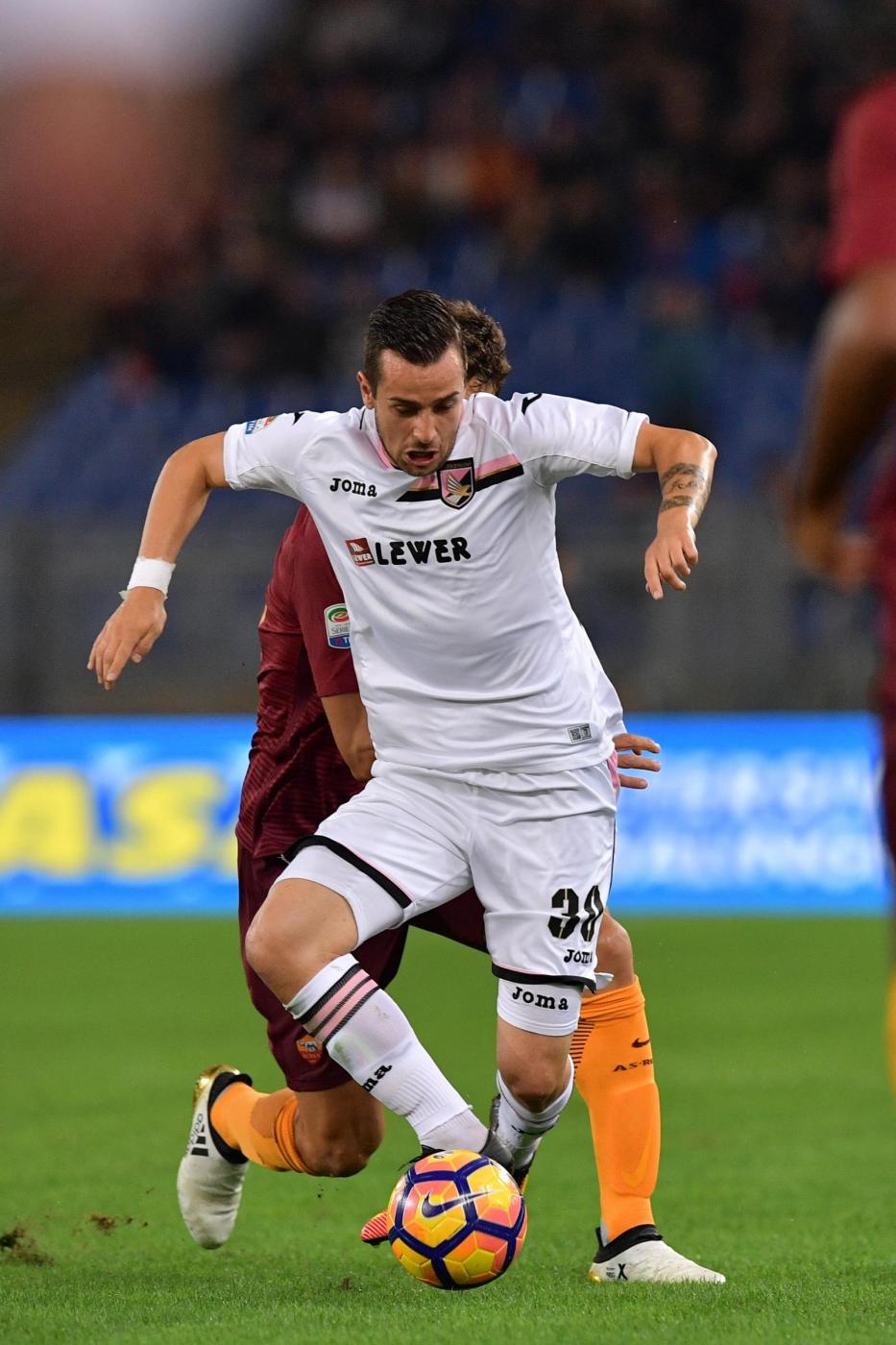 Nestorovski during the game; photo: AS Roma
Italy, Serie B, Benevento - Perugia 0:0
Nikola Jakimovski got a chance to play the last 10 minutes of the game when he took the place of booked attacker Karamoko Cissé.
Kazakshtan, Premier League play-off, Astana - Aktobe 1:0
Agim Ibraimi was about to make his come back but he renewed the ankle injury before the Europa League road game against Olympiakos, so he is done with the current season in Kazakhstan.
Kazakshtan, Premier League play-out, Akzajyk - Atyrau 3:1
Aleksandar Damchevski wasn't summoned for this road game. It wasn't an important game for his team as they have already secured a place in the safe zone.
Kazakhstan, Premier League play-out, Taraz - Tobol 2:1
Dushan Savikj also wasn't summoned for his team who as well has secured its place for next season.
Kazakhstan, Premier League play-out, Shakhter - Zhetysu 4:1
Marko Simonovski played until the 71st minute when Yevgeni Goryachi took his place. It was 3:0 at the time. Previously in the 44th minute he unselfishly assisted to Maksat Baizhanov who scored for 2:0. It was an important win for his team to definitely stay in the league.
Simonovski's assist (at 2:42):

Malaysia, Liga Super, Kelantan - Perak 2:2
Bazhe Ilijoski played his last game for Kelantan as he is leaving Malaysia. He scored two goals in his farewell game that was also last of the league season. His team ended up fourth.
Ilijoski's brace (at 0:05 & 0:23)

Netherlands, Eerste Divisie, NAC Breda - Fortuna 3:1
Stefan Ashkovski missed the game due to the injury he picked up last week.
Netherlands, Eerste Divisie, Emmen - Telstar 0:0
Denis Mahmudov played the full game for the visiting side.
Poland, LOTTO Ekstraklasa, Jagiellonia - Zagłębie 1:2
After not featuring in 8 games in a row Aleksandar Todorovski played the whole game for Zagłębie who recorded an important road win.
Poland, LOTTO Ekstraklasa, Śląsk - Cracovia 2:2
Ostoja Stjepanovikj was introduced instead of Peter Grajciar in the 80th minute while his team was leading 2:1. A penalty deep into the stoppage time gave the visitors a point.
Portugal, Ledman LigaPro, Famalicão - União da Madeira 2:0
Eventually Andreja Efremov got back as the number one keeper for Famalicão and managed to maintain a clean sheet.
Serbia, Super Liga, Spartak - Crvena Zvezda 1:1
David Babunski started in midfield for Crvena Zvezda and played untill 69th minute when he made way for Portuguese international Hugo Vieira. Daniel Avramovski was not summoned by Crvena Zvezda for this match.
Serbia, Super Liga, Javor - Mladost Lučani 1:1
Aleksa Amanovikj and Filip Ristovski didn't play for Javor nor Tome Kitanovski for Mladost.
Serbia, Super Liga, Čukarički - Metalac 2:1
Stefan Andrikj didn't make the matchday squad for Metalac.
Serbia, Super Liga, Partizan - Radnički Niš 1:1
Petar Krstikj wasn't part of Radnički's squad at this game.
Serbia, Super Liga, Novi Pazar - Napredak 0:1
Darko Micevski played all minutes for Novi Pazar in his team's home defeat.
Slovakia, Fortuna Liga, Spartak Myjava - Podbrezová 0:2
Dejan Peshevski didn't play for Podbrezová due to injury.
Slovakia, Fortuna Liga, Zlaté Moravce - Slovan 1:5
Tihomir Kostadinov wasn't part of the home team's squad at this game.
Slovakia, Fortuna Liga, Spartak Trnava - Dunajská Streda 1:0
Darko Tofiloski was reserve goalkeeper for Dunajská Streda at this match.
Slovenia, Prva Liga Telekom Slovenije, Koper - Domžale 1:3
Zeni Husmani started at visitors bench before he came as a substitution at 68th minute instead Žan Majer.
Husmani (blue) watches the ball; photo: NK Domžale
South Korea, K-League Classic play-out, Incheon United - Gwangju 2:0
Krste Velkoski wasn't summoned by Incheon.
Spain, Segunda División, Almeria - Gimnástic 3:0
Stole Dimitrievski played whole game for Gimnástic and coceeded three goals in their heavy away loss.
Highlights of the game:

Sweden, Allsvenskan, Norrköping - Falkenbergs 2:1
David Mitov Nilsson is out of Norrköping's squad because of injury.
Switzerland, Raiffeisen Super League, Lugano - Basel 2:2
Ezgjan Alioski played whole match for Lugano and scored the second goal for his team at 75th minute from the penalty spot. It was his eighth goal this season and at the moment he is the leading scorer in Swiss championship.
Alioski's goal (at 3:15):

Switzerland, Raiffeisen Super League, Young Boys - Grasshoppers 4:0
Nikola Gjorgjev came on the field for Grasshoppers at 67th minute replacing Harun Alpsoy while Taulant Sulejmanov didn't make the matchday squad for Young Boys due to injury.
Switzerland, Brack.ch Challenge League, Wil - Winterthur 5:1
Samir Fazli spent all minutes on the home team's bench.
Turkey, TFF 1.Lig, Göztepe - Eskisehirspor 2:1
Adis Jahovikj was the man of the match. He scored the both goals for his team at 35th and 92nd minute of the game. He's now Göztepe's leading scorer with 5 goals.
Jahovikj's goals (at 1:15 & 2:26):

---