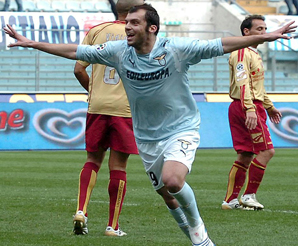 Goran Pandev and his managers managed to get the highest salary in Lazio for the Macedonian best players and receive a possible income of 1.6 million euros per season.
A number of European giants have shown an interest for Goran Pandev, including giants like Real Madrid and Bayern Munich, however he has agreed terms over a new contract and is expected to signed it in the next few days.
"We have reached an agreement with Goran for the contract extension," said Lotito. "He will remain at the club for a long time. He knows he has the affection and support of this club."
According to unofficial information in the Macedonian media, Goran Pandev will become Lazio's highest payed player with 1.6 million euros. Current Lazio captain Thomasso Rochi receives 1.2M from Lazio and with the new 3-years-long contract, Goran Pandev will surpass Rochi and also he will become Lazio's vice-captain.