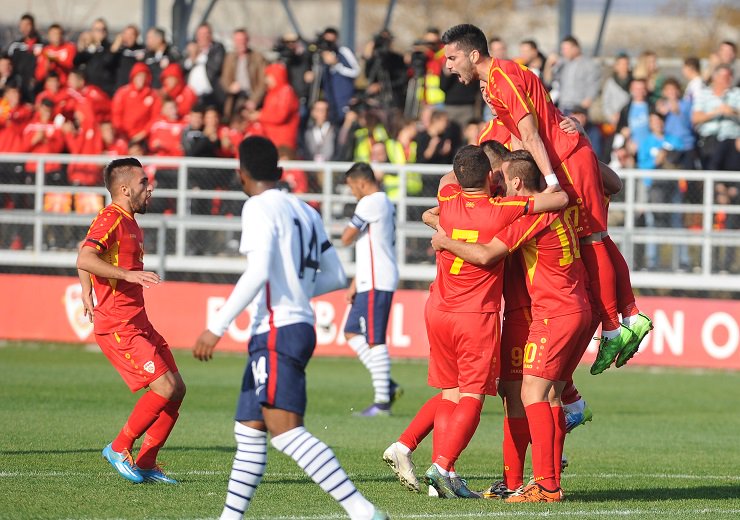 Despite playing with 10 men since the hour mark and being down 2:0, France U21 found a way to salvage a draw against Macedonia.
Macedonia would have likely viewed a draw against France as a positive result, but the way it materialized on Sunday will come with a lot of regret. After all, things were looking great at the hour mark. Macedonia was home, leading 2:0, and France just had a played sent off. However, the visitors showed great resolve to leave Macedonia with one point.
Viktor Angelov, who was preferred to Dorian Babunski at center-forward, rewarded manager Blagoja Milevski for that decision by scoring the opening goal in the 19th minute. After good movement and passing, Kire Markoski set up Angelov who slotted home a shot from inside the area. The lead would extend to 2:0 in the 40th minute through Marjan Radeski. The Shkendija striker controlled a pass from Darko Velkovski and managed to best his marker before sending a right footed shot to the back of the net. The effort by Radeski seemed to lack power, but the French keeper was out of position, leading to the goal.
Macedonia was playing great football, converting its chances and defending brilliantly. The discipline and organization was stellar as France was held in check the entire 1st half.
The 2nd half opened with Igor Aleksovski making a good save in the 47th minute. He denied a header from close range. Then, in the 60th minute, France went down to 10 men after Stéphane Sparagna picked up his second yellow card. So, things were looking great for Macedonia at that time. However, for whatever reason, the intensity dropped and complacency set in. France would pounce by netting two goals in the 65th and 72nd minute.
Video of the goals:
With this 2:2 result, Macedonia stayed in third place of Group 3. They trail Iceland by 4 points and France by 3 points, but Macedonia does have a game in hand over those two countries.
France was undoubtedly playing with heavy hearts in this game after the tragic events in Paris. The Macedonian federation installed "Pray for Paris' signage at the match as both teams also wore black armbands.
The senior squad was in attendance to cheer on the U21 side. That included manager Igor Angelovski and his staff. Angelovski will now have to decide which U21 players to promote heading into the Lebanon friendly on Tuesday.
Macedonia U21: Aleksovski, Murati, Zajkov, Velkovski (81′ Musliu), Demiri, Nikolov, Bardhi, Markoski, Avramovski (67′ Kostadinov), Radeski, Angelov (75′ Imeri).