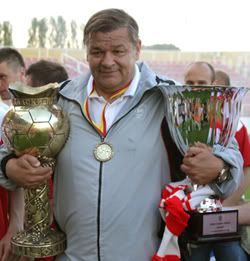 Serbian coach Dragoljub Bekvalac leaves Macedonian champion FK Rabotnicki Kometal and returned to FK Vojvodina from Novi Sad.
After the successful season in which Dragoljub Bekvalac won the double title, Macedonian league and Macedonian cup titles, surprisingly the famous Serbian coach didn't extend his contract with FK Rabotnicki. For the fourth time in his coaching career, Bekvalac will takeover FK Vojvodina from Novi Sad.
The signing of the new contract between Rabotnicki Kometal and the coach Dragoljub Bekvalac was surprisingly prolongated since the winning of the cup title last month and today it was definitely announced that there will be no new contract. This action probably will increase the chances for Trifun Kostovski, Kometal's owner and president of Rabotnicki, to leave the club and takeover FK Vardar.