According to zurnal.rs, usually a reputable source in Serbia, the Babunski brothers were offered on loan to Partizan.
We were alerted of this rumor on twitter by the account of @SerbianFooty. We follow each other and they let us know about this rumor. It is important to note that this is only speculation right now, but we decided to write an article because zurnal.rs is usually a reliable source.
David Babunski plays for Barcelona B, relegated to the third division this season, while his younger brother Dorian plays for the U19 side of Real Madrid. They are also teammates on the U21 national team of Macedonia.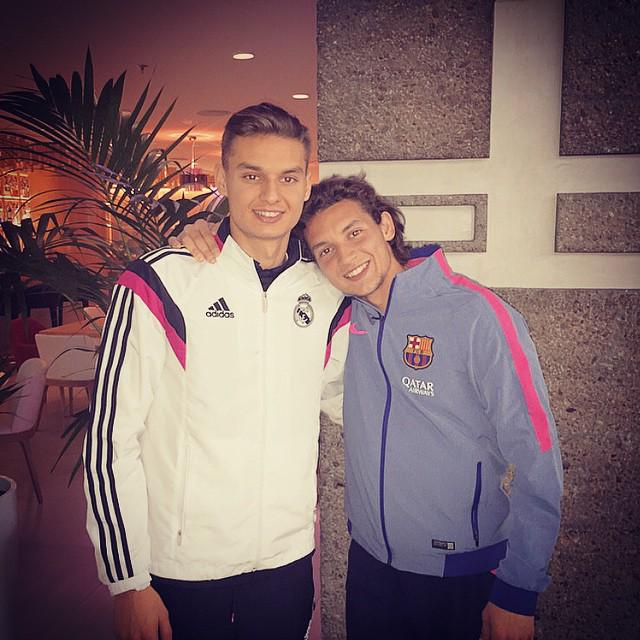 Barcelona, the owner of Barcelona B, supposedly had a transfer ban for one year, but then several days ago they signed Aleix Vidal from Sevilla. So, if that was allowed, then surely a loan would also be okay. It is very confusing because it was clearly stated in December of 2014 that Barcelona would face a one year transfer ban. However, they are signing players, while also being linked with others, so it looks like the transfer ban does not exist.
It must be said that David and Dorian are far away from reaching the first teams of those two Spanish giants. That is not meant to be critical of them because it is very difficult for youth players to get promoted for Barcelona and Real Madrid. Few make it from the youth ranks, while most usually end up with other teams in their careers. David has trained for the first team on several occasions, but that was more because Barcelona needed extra bodies for training.
Moving to Partizan on loan, in a package deal, could be a good experience to develop further and grow both personally and professionally. We shall see over the coming days and weeks whether this rumor is legitimate or baseless.
Here is the article on zurnal.rs that talks about the Babunski brothers being offered to Partizan.