Nikolce Noveski, the macedonian football player that currently plays for FSV Mainz 05 from Germany, is in hometown Bitola currently resting from another succesful season with his club.

We've found him in his favorite coffee bar 'Bliss Kafe' while he was chatting with old friends from Bitola. He immediately asked us to join him and on real pleasure accepted the offer for a small interview.
At the beginning we had to congratulate him on his last reward awarded in Germany. He was voted the best defender in BundesLiga 2. His answer was modest:
– These kind of rewards mean a lot, but in reality they are just a motivation to go further and further.
After ordering his juice Nikolce continued talking to us. This time we've asked him about his personal career and future.
– I had a great season with my club Mainz. The unfortunate part is the fact that we've failed to gain a promotion although we were really close to those spots. At the end we have finished 4th on the table with only 2 points behind the 2nd and 3rd placed team. I am having really good time in Mainz currently and my contract has 2 more years till its expiry. That is why it is still early to talk about the possible transfers. I am always comitted to the job I currently have.
It was visible that Noveski is very popular among the people from Bitola. He was talking to old friends from FK Pelister and Bitola in general. We couldn't help noticing that Nikolce is a very good lad and was very glad to be in Bitola once again. Than we've asked him about his life in Germany and whether he sees some of the Macedonian footballers that play in Germany nowadays. He told us that he is a very good friend with Vasoski as they are actually situated not far one from another. Than came the most important question and the one Nikolce was very eager to answer – What are his expectations for the next World Cup 2010 qualifications?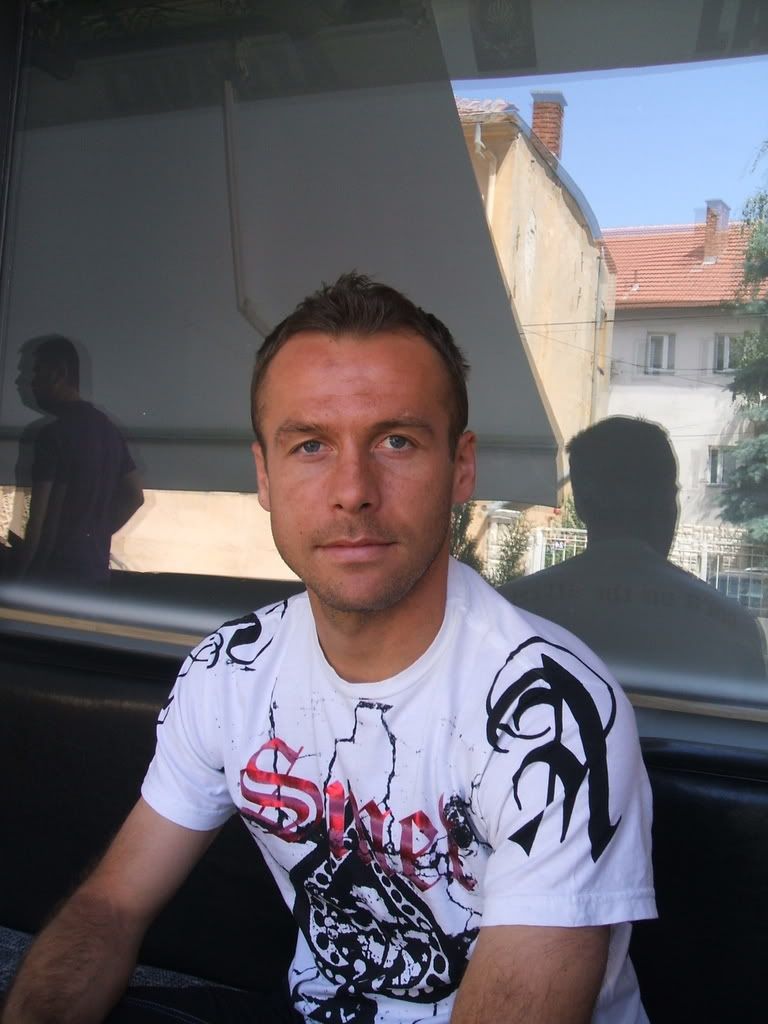 – I think that this is our chance. The Macedonian national team is probably the strongest currently and the atmosphere is great within the players. We are all friends, not only the players but with Srecko Katanec as well as we are already 2 years under his command. We have created a good team that can play equally good against many other national teams. I can't hardly wait the start of that tournament and our first two matches ( against Scotland -6th of September and against Netherlands 10th of September). We have to make a good result and win at least one of those opponents so we can have something to build upon.
During our many questions and answers, we have asked him about the Macedonian Football Championship. What he thinks about FK Pelister, about the players in our league and the quality of the football played.
– I will always respect FK Pelister. However, hereby I would like to deny the rumours about my possible come-back in this season for Pelister's UEFA cup matches. Regarding the first football league – though I don't follow it as closely as I used to, I know that one of the best players that play there is Tomislav Pacovski – Rabotnicki's goalkeeper.
Knowing that in his career Nikolce played under lots of coaches, we've asked him to tell us from who did he learned the most. Who has left the biggest impression on him?
– You see, I always try to learn. Always. From anyone. I can't name one coach that was the best or something like that. Different coaches, different learning methods, different tactics. All is part of the career and the best thing is if You can pull out the good stuff from everyone and imply it in Your play. The success will be inevitable, then.
Our coversation was coming to an end. Nikolce will be in Bitola while his holiday from Mainz lasts and then it is back to work again. We've thanked him for the time spent and the friendly talks and we have wished him great future in front of him.