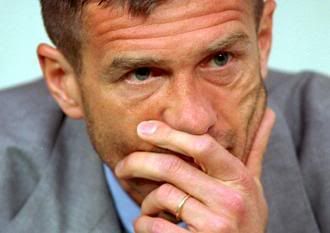 The bad form of the Macedonian national team continues. After the defeats from Russia, Israel and Croatia, an easy win was expected against the 125th ranked national team of Estonia but with another bad performance, the Macedonian national team got only a point. After those results a resignation from the head coach is expected in all normal countries.
The non-winning streak of the Macedonian national team on the home ground continues. After 3 years and 10 matches without a win, the match against Estonia was seen the right match for breaking that bad run. But the Macedonian football fans will have to wait for some other match because with another bad performance, the Macedonian national team won only a point.
The guests started the match with a slight initiative and had small pressure in the first few minutes on the match. And just when the Macedonian players took over the control of the ball and started attacking, the small number of fans on the Gradski stadium were shocked by the Estonians. Huge space was made in the Macedonian defense and the Estonian defender Piiroja had no problem scoring from close range in the 17th minute. This was only the 3rd goal for Estonia in the EURO qualifications. The other 2 goals were scored against Andorra.
Macedonian players quickly managed to return into the match and made pressure on Estonian goal but the few shots missed the target and were no danger for goalkeeper Londak. In the 30th minute Tasevski delivered a corner and Maznov was on the right place to head the ball towards Estonian goal. The Estonian defender Piiroja tried to block the shot but it ended in the Estonian net.
In the second half Macedonia made big effort to score a winning goal. Stojkov and Maznov had shots on the goal but neither of them ended in the goal. Macedonia had 12 shots on goal but only 4 of them ended on target and only 1 ended in the net. Not just that Macedonia failed to win, but in the last minutes Estonia had the chance to win when in they hit the bar in the 86th minute.
Under all those circumstances, after the bad results of the Macedonian national team, the bad atmosphere in and around the squad, the biggest responsibility should go on the side of the head coach Srecko Katanec, so maybe in the very near future we should expect his resignation.
Video highlights from the match:
https://youtube.com/watch?v=zTMoffN7Jr4
400 300]